Why is it that every time we see a giant yellow 'M' or a Red play button icon certain brand names come to our mind? Brands like McDonald's and YouTube are identifiable even from a distance. When people on highways stop for a meal, they will naturally be drawn towards a brand like McDonald's by seeing their billboard from a distance. 
Branding is an indispensable part of selling a product or service. Even teachers who sell courses online or run private tuitions need to build a brand identity to stand out from the crowd and attract students. Branding is thus an essential part of online and offline teaching in the present scenario. But what makes branding so important for educators?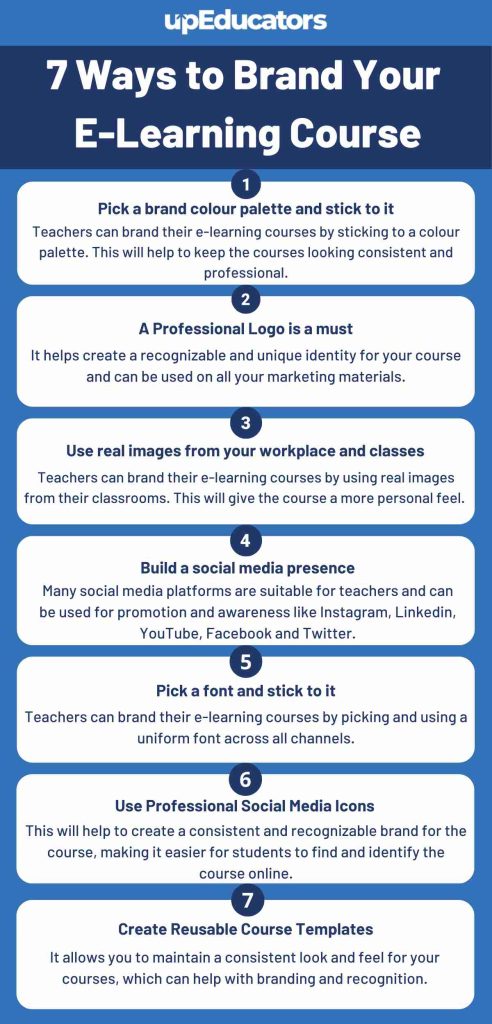 Why Teachers need to learn branding strategies to sell their courses?
In the current educational landscape, teachers need to be able to brand themselves to be successful. Here are 5 reasons why:
It helps you stand out from the crowd. In a sea of online courses, a well-branded course will help you attract attention and stand out from the competition.

It allows you to build trust with your students. A strong brand will help you establish trust and credibility with your students, which is essential for any successful e-learning course.

It helps you build a community around your course. A strong brand will help you build a community of students and followers who are interested in your course and what you have to say.

It gives you a platform to promote your course. A well-branded e-learning course will give you a platform to promote your course and attract new students.

It helps you stay relevant and top-of-mind. In a constantly changing landscape, a strong brand will help you stay relevant and top-of-mind with your students and followers.
upEducators has helped 4000+ educators to learn the essential tools and digital skills used in online and blended learning environments. Our expert trainers and the team have helped hundreds of teachers to build a brand for their course by using different tools and digital marketing strategies. Here are 7 of the most widely-used and effective branding strategies that every teacher must use.
Pick a brand colour palette and stick to it:
Teachers can brand their e-learning courses by sticking to a colour palette. This will help to keep the courses looking consistent and professional. A colour palette can be created by choosing a few colours that complement each other and using them throughout the course. For example, a teacher could use a blue and green palette for a course on environmental science.
Canva is one of the most widely-used platforms to create a colour palette for your brand. You can select a colour palette from www.canva.com/colours and create a unique colour palette for your brand.
A Professional Logo is a must:
A professional logo is one of the most critical ways to brand your e-learning course. It helps create a recognizable and unique identity for your course and can be used on all your marketing materials. When creating a logo, be sure to keep it simple and easy to read. Avoid using too many colours or intricate designs, as this will make it more difficult for people to remember your brand. Instead, focus on creating a logo that is clean and eye-catching. Be sure to also optimize your logo for use on web and print materials. This means ensuring that it is the right size and that the colours are consistent across all mediums. By creating and optimising a professional logo, you can help ensure that your e-learning course stands out from the rest.
There are many platforms which can be used to create logos. But these are the best ones to create a custom logo as they are simple to use and offer a wide range of templates.
Use real images from your workplace and classes:
Teachers can brand their e-learning courses by using real images from their classrooms. This will give the course a more personal feel and help students connect with the material on a more personal level. In addition, using real images from your classroom will help to create a visual learning experience for students, which can be very beneficial for those who learn best through visual aids.
Create a library of images and save those on Google Drive by creating an album or folder. Integrate these images into your branding journey to make your classroom more credible.
Build a social media presence:
As an e-learning course creator, one of the best ways to brand your course and attract students is to build a strong social media presence. This can be done by creating a social media profile for your course on popular platforms such as Facebook, Twitter, and LinkedIn. Additionally, you can also create a blog or YouTube channel dedicated to your e-learning course.
By building a strong social media presence, you can reach out to potential students and promote your course more effectively. Additionally, you can also use social media to build relationships with your students and keep them engaged with your course.
Many social media platforms are suitable for teachers and can be used for promotion and awareness. Every teacher must try to build a presence on these social media platforms:
Instagram

Linkedin

YouTube

Facebook 

Twitter
Pick a font and stick to it:
Teachers can brand their e-learning courses by picking and using a uniform font across all channels. By doing so, they can create a more professional and cohesive look for their course. Additionally, using a uniform font can help to ensure that all of the text in the course is legible and easy to read.
Many graphics designing and editing platforms offer thousands of fonts to choose from. Canva is one such platform where teachers can build personalised font groups.
Use Professional Social Media Icons:
Teachers can use professional social media icons to brand their e-learning courses on all platforms. This will help to create a consistent and recognizable brand for the course, making it easier for students to find and identify the course online. Professional social media icons can also help to build trust and credibility for the course, as well as help to promote the course to a wider audience.
Teachers can take a professional social media icon template from Canva or such platforms and build a professional profile picture.
Create Reusable Course Templates:
There are several benefits to creating reusable course templates as a teacher. First, it allows you to maintain a consistent look and feel for your courses, which can help with branding and recognition. Second, it can save you time in the long run by allowing you to create new courses using an existing template quickly. Finally, it can help you to build a community of users who can share and reuse your templates, which can further improve the quality of your courses.
Branding is a process that can take your course from 0 to 100 with a bunch of effective tools and strategies. The content of your course or class is the king but what makes this king popular among the masses is proper branding strategies. Adopting the right branding strategies for an e-learning course can not only help sell the course but even build the credibility of the teacher in the online community.
Author: This article is written by Samiya Rashid for upEducators blog.