Teachers are multitaskers. Their job is not limited to instructing but it involves grading, lesson planning and even filling administrative roles. Staying productive while multitasking during the day can become overwhelming. Due to this, a lot of teachers procrastinate their tasks until the last minute. 
But you don't need to delay your tasks as a teacher anymore. Productivity enhancement tools and applications can help teachers in boosting productivity by prioritizing tasks and even making lists! Here are some of the best productivity enhancement tools that every teacher must use to achieve their daily goals.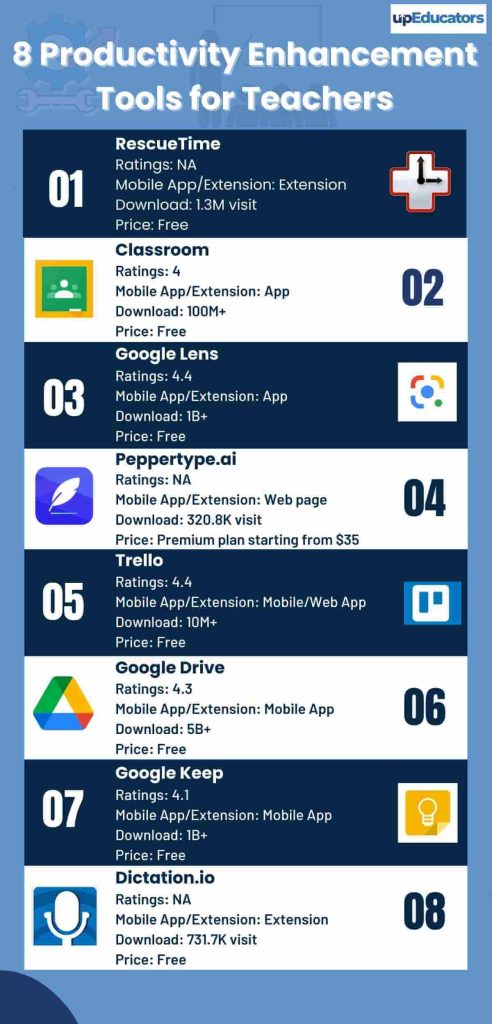 RescueTime
RescueTime is a time management and productivity software that helps users understand and take control of their time. The software automatically tracks time spent on applications and websites and provides detailed reports on where time is being spent. RescueTime can be used to increase productivity for teachers by helping them to understand where their time is being spent and identify areas where they can improve their time management. The software can also be used to set goals and track progress towards those goals.
Classroom
Google Classroom is a free educational platform by Google that eases the tasks performed by teachers. This Google for Education tool provides a platform that helps teachers in creating, organising, grading and even providing feedback on assignments. It simplifies the learning cycle in the classroom and helps teachers in saving a lot of time otherwise wasted on assigning and checking tasks manually.
Google Lens
Copying text from the real world, sharing text, searching for information when you can't describe an object and even converting physical text into digital form has never been easier. With the help of Google Lens, teachers or any user can reap such benefits without any hassle. Google Lens is one of the most productive and instant ways to search for information on the internet which thus leads to saving time and increased productivity.
Peppertype
Are you one of those teachers who are always burdened with the task to write documents and other types of texts? PepperType.ai is an automated content platform that can truly take the burden off your shoulder. The users can generate various formats of texts from articles to single paragraphs using various features offered by Peppertype.ai. It can boost productivity and even tickle your creativity to write and generate written forms of content for your students.
Trello
Making lists, automating tedious tasks, creating boards and collaborating with a group or a team has never been easier. With Trello, users can get their hands on all this and more and increase their productivity. This web-based application helps individuals in setting and achieving goals within the set timelines.
Google Drive
Sharing and uploading documents, pictures, videos and other important resources can get quite tricky. Teachers need better organisation tools to manage and share important files. Google Drive is one such option. Users can upload, share and organise their files in one place using Google Drive. The files can be organised into different folders and can even be colour-coded according to the requirements of the user. It saves so much time and helps in better organisation.
Google Keep
Google Keep is a free online note-taking and to-do app that can be accessed through any web browser or the Google Keep mobile app. Keep allows users to create notes, lists, and set reminders. Notes can be created with text, images, and audio. Users can also set labels and colour-coding for their notes and lists. Keep automatically syncs across all devices, so notes and reminders are always up-to-date.
Google Keep is a great tool for teachers to increase their productivity. Keep allows teachers to create notes and lists for their classes, set reminders for upcoming assignments and tests, and share notes and lists with their students. Keep is also great for collaboration, as teachers can share notes and lists with other teachers. With Keep, teachers can be organized and productive, while also saving time.
Dictation.io
Dictation.io is an online dictation tool that can be used by teachers to increase their productivity. The tool allows users to dictate the text to the computer, which will then convert it into written text. This can be a useful tool for teachers who want to be able to dictate their lectures or notes, as it can help them to save time. Additionally, the tool can also be used to create audio files of lectures or notes, which can be shared with students or other teachers.
Using these productivity tools requires digital skills. Becoming familiar with technology and tools is thus crucial for a teacher in the 21st century. But how can teachers gain these technical skills? 
Teachers can develop these skills through self-paced learning tutorials and lessons. Or getting enrolled on programs like Google Certified Educators by upEducators can help teachers become tech-savvy and comfortable with technology. Such programs help teachers in upskilling and become fit for a virtual and blended learning environment.
Author: This article is written by Samiya Rashid for upEducators blog.